MADRID CRICKET CLUB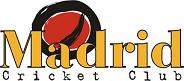 Madrid Cricket Club's 35th Anniversary Lunch
22nd May, 2010
Forty two players and wives attended the lunch at O'Neill's Irish Pub to celebrate the 35 th anniversary of the club's formation in 1975.
Many of those attending were veterans who played for the MCC during the 1970´s, 1980´s, and early 1990´s and included five founder members of the club. Some had travelled from as far afield as Barcelona, Alicante, Valencia, Gijon and Pamplona to attend the event.
Everyone enjoyed a splendid meal, the cost of which was well amortized by the majority of the veterans who made full use of the "drinks included" component of the menu.
The club Vice- President, Manuel Fernandez, gave a short speech welcoming the veterans and inviting them to return to the club albeit as social members, and he was followed by ex- Chairman Michael Rourke who produced much laughter by suggesting that the current MCC team would have been thrashed by the veterans in their heyday.
Also, a raffle was held which produced €371 for club funds.
A special mention and thanks must be given to ex- treasurer Sanjay Chadha (Sunny) who handed over the original club's cash balance of €450 to the current club treasurer David Leonida.
In conclusion, the event turned out to be a total success and thought must be given to repeating the reunion in future years